Read what our customers are saying about
"The Docksider" – Kayak Dock Lift & Storage Rack.
DockCraft Industries LLC
8/17/2019  Keith, Texas  
Canoe Lift and Dock Storage Rack
My 12 Year-Old Granddaughter Loves her new 
Canoe Lift and Dock Storage Rack


5/10/2019  Jerry, Washington.  Dockside Kayak Lift and Dock Storage Rack Thank you. I recent installed one of your kayak units and love it.


4/26/2019 Jim, Michigan

  
Waterside / Clamp On Mount Kayak Dock Rack.
The "DockSider" is working great!  I wasn't sure how it would work with a kayak that large, but it couldn't be easier to use.


4

/25/2019 Carol, Michigan
Waterside/ Clamp On Mount Kayak Lift and Dock Storage Rack
I purchased your DockSider Racks in July 2016.
I really appreciate the design and function of the Docksider racks.   I think they are wonderful, Great planning and engineering went into solving the problem of storing kayaks so that they are out of the way and don't accumulate water and are easy to retrieve and put in the water as well as easy to put back on the racks.

3/28/2019  Another Installation by BullDog Marine, 
Greensboro Georgia.





3/28/2019  Our New Dealer - BullDog Marine, Greensboro Georgia  sent a picture of a DockCraft Kayak Lift and Storage Rack on a dock installation near Greensboro.




2/5/2019 Carol, Fl.  Waterside Kayak Lift & Storage Rack

Greetings from Lake Carroll in Tampa, Florida where it is 84 degrees today.  Eat your heart out, New York!  LOVE the kayak rack.  A snap to use and will definitely get me out on the lake more often!  Thanks for a GREAT product!
9/25/2018  Joe, PA.  Waterside Dock Rack (Bolt On)
Hi Ed   Sorry I didn't get back to you sooner. I wanted to let you know the rack is working out for my 85# kayak. I'm thinking the strap must have been twisted when the link broke. The rack looks and works great on the dock. I plan on getting another for my wife for Christmas.  Thanks for all your help in handling our issues. It's nice to see someone taking pride in their work. You were great. 
8/22/2018  Nancy, NJ - Stainless Steel Dockside Storage Rack


I purchased this dock side kayak rack in stainless steel because my kayaks are too heavy for me to carry up and down from my back yard.  Just had my floating dock installed and this works perfect for fitting into a smaller space and also saving me dock space, it helps me easily put my kayak in the water for when I'm ready.  No more excuses as to why I'm not using my kayaks as much as I have wanted to this past summer.  It has made it so much easier that I am purchasing a second stainless steel rack for my spouse's kayak also.  I love that the stainless steel option is available for me as I live on the saltwater and another material wouldn't hold up to the element.  Would definitely recommend to anyone thinking of a launch system for their kayak.
7/8/2018  Tom, MN - Waterside Kayak Lift and Dock Storage Rack


This is great!  My mom loves it! She is 75 and can operate it - No Problem!
A Great product!



6/1/2018

 - Maria, Mi - Waterside Paddleboard Dock Rack
I purchased two of your kayak lifts last year and love them! They are so easy to use and keep my kayaks safe and accessible.



4/18/2018

 - Russ, CA – Kip, CA - Waterside Paddleboard Dock Rack
It looks fantastic, and "I LOVE IT". All the boaters that drive by comment, and I say "Dockcraft.com".



3/30/2018

 - Russ, CA – Bolt On Dockside Kayak / SUP Dock Lift
I am an older guy and have a bit of a tricky low back and this product is just so easy on the body! Absolutely love it and it truly is as easy as you show in your video. Great job!!
7/23/2017 – Carol, MI – Clamp On Kayak Dock Rack
It appears as though you are certainly filling a need that there are few, if any, solutions for. I love the design of the racks and the efficient way to keep the kayaks when not in use.
7/19/2017 – Barbara, MN – Clamp On Waterside Kayak Dock Rack
I received my order and it works very well. Especially like how easy it is to raise the kayak out of the water.
7/5/2017 – Scott, Mass. – Dockside Bolt On Kayak Dock Hoist
I installed these units and all went well and the kids put the kayaks in with ease this week end.
6/4/201 – Johnathan, MN – Dockside Clamp On Kayak Dock Rack
My wife loves how they store out of the way while still allowing very easy access to the water. I would recommend your product in a heartbeat.
4/27/2017 – Michele, MN – Waterside Clamp On Dock Storage Lift
It works very well. It has turned out to be pretty slick..
11/16/2016 – Sandie, Indiana – Waterside Bolt On Kayak Dock Storage Rack
Just a note to say again thank you for your help in my getting the kayak racks for my Hobie Sport and Hobie Outback. How lucky I was also to have Marty 17 miles away. What are the chances?! He was so helpful with the set up and so efficient yet never seemed in a hurry. The whole experience has been great.
As I have mentioned, I am on a fairly steep hill and have a high seawall. If not for the racks I don't see how I could have used the kayaks so easily.
8/16/2016 – Jim, Indiana – Dockside "Tool Free" Dock Mount – Series 200 (Clamp On)
"We love DockCraft's unique Kayak Storage Rack" which makes it so easy to lower, raise and store our 2 Perception Pescador 10.0 kayaks on our pier/dock. During installation I received great customer support from Ed when I needed to make a small modification to one of the racks. Thank you for your outstanding product and service!" Lake Hamilton, IN
7/29/2016 – Kathy, New York – Waterside Kayak Dock Rack (Clamp On)
I am a Dock Craft Industries Junky!!!! Can't wait to get my next Docksider Kayak/Paddle Board rack on my dock!!!! So easy to kayak with no lifting!!! Kayaking is a breeze now! LOVE IT!!!!

7/9/2016 – Gina, Wisconsin
Hi!! Just got kayak lift installed!! Love it!! I had my Tommy dock installers install it as they were in the water anyhow. A new dealer, Owen Jones, just bought Tommy Dock brand in Wisconsin. Just thought I'd pass along name as the installers were so impressed with your lift!!     Thank you!

7/8/2016 – Clayton, Virginia – DockSide Kayak Rack
"My wife, Bette, really loves it,  She no longer has to haul it up onto the dock and then flip it over.  Previously, when on the dock, she had to turn it over and slide it into the water scraping the bottom of her kayak.  She was also very surprised at the ease of pulling her kayak into the storage position."
5/17/2015 – Chris, Wisconsin – Dockside Clamp On Kayak Storage Lifts
"The Docksider kayak lifts we purchased from you have made kayaking so much easier and fun.   The Docksider lifts have greatly simplified the process of storing our heavier Hobiecat Kayaks when not in use and also getting them back into the water safely and with ease.  We love them.  Thanks!"

4/20/2015 – Bill, Wisconsin – Dockside Bolt On Dock Mounted Kayak Rack
"Great American Product" – a great way to store our kayak!
4/19/2015 – Mike, Michigan – Dockside Clamp On Kayak Lift and Launch
"Bravo on the lift design! I am very impressed. So much that I would like to purchase another one. I work in the tool and die business designing and fabricating automotive checking fixtures that check production car parts for tolerance variation and quality. I usually try to come up with my own designs but I have to admit you have a winner!"
7/12/2014 – Joe, Wisconsin – Waterside Clamp On Kayak Lift
I received the kayak rack and installed it thus morning.  I have to say I'm impressed, it works just like the video showed.
7/9/2014 – Sarah, Wisconsin – Waterside Clamp On Kayak Storage Rack
We bought one of your Docksider racks a couple years ago…. Our dock is a truss-style Floe dock, our kayaks are Old Town.  I love how your rack works!  Looking forward to my second one!
7/8/2014 – Greg, Ontario Canada – Waterside Clamp On Kayak Storage Rack
I installed the waterside Docksider this morning.   The product is even better than I imagined it could be.   Install was straight forward. Load  and unload of my kayak was effortless. Here are some pictures for you.

6/23/2015 – Scott , Florida – Dockside Bolt On Kayak Storage Rack
The unit works Great – Thanks for a Great Product!

5/8/2014 – Jim, Missouri – Dockside Bolt On Kayak Rack used for SUP
Installing the Docksiders went well and here are some pictures of the installation with our paddleboards "at home"!  Thanks!

4/10/2014 – Scott, Georgia – Dockside Bolt on Kayak Lift and Launch
Actually installed the day after it came. Easy and works as advertised! Thanks.
10/12/2013 – Mark, Kentucky – Dockside Dock Mounted Kayak Storage Rack
Fixed!  All I did was adjust the straps to the kayak after it was in the proper
position as you suggested.  Seems to work just fine now, and my wife has
already tested it.  She is elated.  Thanks for everything.
It's good to see a business that stands behind their product and provides excellent customer support. I think you've gone echelons above any business I've ever purchased from.  Almost wish that I could do it again!
8/21/2013 – Jenny, Georgia – Dockside Dock Mounted Kayak Storage Rack
The dock rack arrived last Friday as promised in perfect condition.
My husband put the rack up this afternoon and it works just as I'd hoped it
would!  It was very easy to install and I look forward to using my
kayak without having to lift and carry it.
8/5/2013 – Tom, South Carolina  – Waterside Kayak Storage Lift
Here are the photos I promised of the units installed.  They work great and we use them all the time.  I am using them with the "Liquid Logics" Versaboards.  Thanks for all your help.  Please feel free to use these photos on your website or in any advertising.
7/29/2013 – Rich, Idaho, Dockside Stainless Steel Kayak Storage Rack
We installed the Docksider today and it works great. Thank you.
7/21/2013 – Anne, Wisconsin, Waterside Kayak Lift
Ed, We received the rack on Friday as scheduled.  We installed it today!  It is very handy and easy for lifting the kayak out of the water.
7/21/2013 – Patty, Minnesota, Dockside Kayak Storage Lift
Great rack for our kayaks – Thank you.
7/9/2013 – Joan, Minnesota, Waterside Kayak Rack
Ed,  Just a quick note to tell you that the kayak holders are awesome.   I can't believe how easy they are to use!  Just what they promised and just what I wanted!
6/27/2013 – Anne, Michigan, Dockside Kayak Storage Rack
So easy a cave man could have done it.   Took me about 10 minutes total.
Thanks for all of the help and communications.  I liked the personal contact!  I actually did a little happy dance when my shipment came yesterday.
6/15/13 – Larry, Michigan,  Waterside Kayak Storage Rack
We love the lifts. I purchased your lifts as my wife, being petite, routinely was having trouble lifting her Hobie Sport out the water and on to the prior rack due to the weight of the kayak.  When lake levels dropped the reach was too much to handle.  Your rack, dock mounted, works perfectly by both reducing the vertical lifting weight and allowing for modest adjustment to compensate for varying lake levels during the season. I found your design to be not only elegant but pretty simple (both in use & installation).  I decided to try your approach before designing something and I am glad I did.  Good job & you have a pair of happy customers!
5/27/13 – Sue, Wisconsin, Waterside Kayak Storage Rack
Hi Ed:  We finally set up the kayak racks (3). It took all of about 5 minutes to get them set up and we are VERY pleased!! They are sooooo slick!! Easy to install, easy to use. Thanks a million!!
5/17/13 – Cheryl, Michigan, Dock Mounted Waterside Storage Rack
Hi Ed, just wanted to let you know, we are so happy with the rack we bought last year that we just ordered another one today.
5/9/13 – Steve, New Hampshire, Dockside Kayak Storage Rack
Good Morning Ed; here is a photo of the installed Docksider with our kayak.  It was an early Mother's Day gift for my wife who really has enjoyed it (it took her much longer to upload the photo than it did for her to put it to use.
3/26/13 –  Customer in Texas,   Dockside Kayak Rack
Ed, I installed both racks, just wanted to let you know they work great!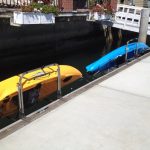 9/04/12 – Bob T. ,  California, Stainless Steel Kayak Dock Storage Rack
Love your Kayak Dock Rack! Your product was relatively easy to install, was just as you described, and everything works perfect!
A buddy of mine came by yesterday to go kayaking with me, and he thought it was the most innovative rack/launch he had ever seen & could imagine.
My wife loves the ease of launch as well…I love NOT having to struggle/carry them from my garage down the ramp to the dock, and then muscle them in & out of the water. Back up the ramp, back to the garage….!
It really is so much easier to have them right at the dock, ready to launch/pivot up & down!
Again, thanks, & I will recommend this to anyone I know who has kayaks & dock!
I would suggest to you to send info about your rack system to major on-line kayak dealers!
This is a no brainer, best in-class solution I have seen, period! Stainless Steel makes it a perfect solution for saltwater harbors/docks. I think the Stainless Steel gives extra strength to everything too! Feels rugged/strong!
9/04/12  –  Mike M. , Minnesota, Aluminum WaterSide Kayak Dock Storage Rack  
I just finished the install, it worked out well. I really like how easy it is to use, much better than trying to lift it onto a rack.
08/21/12  – Cheryl C. ,  Michigan, Aluminum Kayak WaterSide Dock Rack
The install went very well.  I am very pleased with the ease of install and operation.
Thank you for marking the straps–location was perfect.
I will now use the kayak more because the rack makes it so convenient.
Day after I installed, had a big storm with lots of wind, rain and rough on lake.  Kayak did not budge and never wet inside.  GREAT product!
I have an Otter Kayak that I use occasionally.  I may be calling to order another rack.
Thanks again for everything and all your assistance.
You have been wonderful to work with.
8/13/12   – Nancy & Steve, New York, Aluminum WaterSide Kayak Dock Rack   
This is Great – I love it!
8/12/12  – Bill H. , New Hampshire, Aluminum WaterSide Kayak Dock Storage Rack   
The rack works great – The install was easy – less than 15 minutes.  I'm going to recommend this to all my friends.
8/12/12 – Mike S.  ,  Minnesota, Aluminum WaterSide Kayak Dock Rack   
The lift worked great – I just ordered a second one.
8/4/12 – Nancy C. , New Jersey, Aluminum WaterSide Kayak Dock Storage Rack   
I'm 79 years old.  The Docksider is so easy to use. Thanks!
8/3/12 – Steve B.  ,  New York, Aluminum Water Side Kayak Rack   
We are thrilled with our DockCraft kayak hoists (2)!
The installation took mere minutes.
The operation of them is very easy and has made our kayaking more fun.
We have also been very impressed with the stability in some very strong winds.
We highly recommend your product. Thanks!
7/29/12 – Damian D. , Wisconsin, Aluminum WaterSide Kayak Storage Rack   
We got them installed no problem.  They work great!  Thanks for all the help getting them sized up…
5/30/12 – Jeff F. ,  Michagan, Aluminum DockSide Kayak Storage Rack   
Thanks!  I installed the rack last weekend and it has survived some strong winds.  So far so good.
12/12/11  – Chris F. , Connecticut, Aluminum WaterSide Kayak Storage Rack   
Thank You for your attentive customer service on my order.   It is Much appreciated!