March 9, 2019 | Ed Wrobbel | DockCraft Industries LLC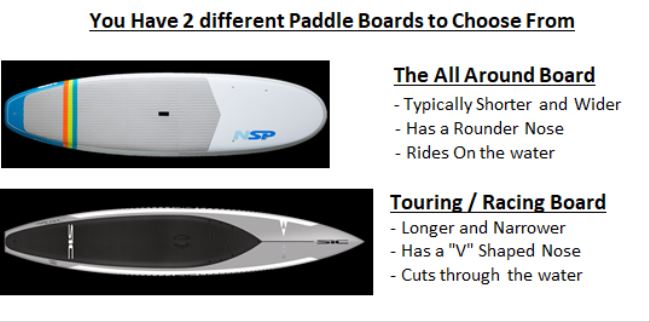 Paddle Boarding offers:
– The Serenity and Solace of the open outdoors and the quiet of the water
   lapping against your board.
– The Core Body workout that Paddle Boarding offers; or
– Quiet time with friends, away from the everyday pace.
There are a few things you should be aware of before your purchase:
Paddle Board Construction – 4 basic paddle board construction techniques:
Epoxy Fiberglass Paddle Boards: a solid board made with an EPS foam core (similar to a high-density foam cooler) wrapped with fiberglass and epoxy. Fairly lightweight, stable and rigid.
Pros: Generally, the most stable, faster, good tracking and control.
Cons: Most difficult to transport and store, can be dinged or cracked, more expensive.
Good for recreational and touring Paddle boarders.
Soft Top Paddle Boards: similar to Epoxy Fiberglass boards, but the top of the board is covered with a sponge material that shows less dings and scratches.
Pros: Good for a beginner who is more likely to run into docks, rocks, or other obstacles. Falling down on the board is less likely to hurt.
Cons: Extra padding makes these boards slightly heavier, more prone to punctures
Good for water front owners, recreational paddlers, and one size fits all.
Thermoplastic Paddle Boards: a molded shell around a foam or hollow core.
Pros: Less likely to ding or scratch, heavy daily use, Beginning paddlers
Cons: Heavier than other boards, less maneuverable and performance oriented.
Least costly
Inflatable Stand Up Paddle Board (ISUP): constructed of heavy-duty commercial PVC. Cross stitched construction which creates an air pocket / core. When inflated, the board is very rigid, similar to a basketball.
Pros: Portable and can be stored easily when deflated. Less likely to be damaged when hitting obstacles.
Cons: Needs to be inflated prior to use; inflating device must be transported as well as. A slight performance degradation as they tend to float on the water as opposed to cutting through the water.
Paddle boards have 4 dimensions that you should be familiar with:
Paddle Board Volume (a function of length, width, and thickness).
The volume determines the load capacity of the board – can it support your weight?
You do not have to be very concerned about this as most boards have the volume and weight capacity labeled on them. Select a board where your weight is within the range provided.
Paddle Board Length  – Longer boards are typically faster and go straighter, whereas shorter paddle boards are more maneuverable.
Paddle Board Width – The most important in regard to stability. Narrower boards go faster. The extra stability of a wider board may make you feel more comfortable and paddle more efficiently.
Paddle BoardThickness  -Inflatable paddle boards are 6 inches thick and hard paddle boards are generally 4 inches thick. Thicker inflatable boards make you feel higher above the water and are more stable, however, the performance is not as good.
Hard Paddle Boards are shaped to reduce weight and optimize performance, yet less stable.
Paddle Board Configurations:
Nose shaped paddle boards:
Wider noses have more flotation and provide more weight capacity for gear and pets.
Pointier/ Narrower noses cut through the water / waves more easily allowing better performance in racing and cruising conditions
Tail shaped paddle boards

Pin Tail (which approaches a point) has good tracking, but not as stable on turns. Good for racing.
Square Tail provides stability and the ability to turn. Good for touring and shorter racing.
Round Tail, a combination of the Pin and Square Tail, is stable and easier to turn. Good all-around tail for SUP's, but typically not used on race or high-performance boards.
Other paddle board features:
Fins: Fins help with tracking of your Paddle board, but most importantly they help you from having your board "spin / slide" out while turning.
All Paddle Boards come with fins; usually one, two, or three.
The single fin is great for lakes, bays, and ponds. The three-fin setup is best suited for the surf. The greater number of fins, the more specialized your board becomes.
Accessories Required for Paddle Boarding:
Paddle: Clearly, the paddle is required to propel you and your board through the water. Your paddle should be 6 to 10 inches taller than your height.
SUP Leash: This is a cord that attaches to you  (at your ankle or calf via a Velcro strap) and your board (coiled or straight). This leash is the only means of connecting you and your board. This safety device prevents your board from getting away from you in the event you have a mishap (loose your balance, stormy conditions, collide with something). Without the leash, your board could get away from you in just seconds. Additionally, your loose board could pose danger to others.
PFD (Personal Floatation Device): An extra safety feature for you in the event of a mishap.
Inflation Pump: Required for Inflatable SUP's
Classification of Paddle Boards:
– All Around Paddle Boards
These boards have a round nose that is slightly raised out of the water in the front. This will push the water down while lifting the nose up. Great to handle waves. These boards tend to be 10 to 12 ½ feet in length and 30 to 34 inches wide. For greater stability look at the wider side of this range. Great for beginners, the casual paddler, Yoga and fishing. They are not the best for racing or touring. (Also, a good board for Yoga and Fishing)
– Touring Paddle Boards
These Paddle Boards typically have a pointed nose (to cut through the water) and are designed for longer, calm water paddling. Typically, these boards are longer and narrower, which results in less stability and less maneuverability. These boards tend to be longer (12 to 14 foot) and narrower (29 to 30 inches) which contributes to the speed needed for racing.
Hopefully this article will give you the required background information to have an educated conversation prior to the purchase of your SUP / Paddle Board and to fit your intended use.
Wait there's more…… After Purchase needs!
Transporting your Paddle Board / SUP Home:
Once purchased, you will need to get your Paddle Board / SUP home! If you do not have a car top carrier (which, in most likelihood, you could purchase at the location you purchased your Paddle Board / SUP)) a pickup truck or a larger SUV, you could always rent a trailer from a local trailer rental agency.
Car topping your Paddle Board / SUP to your launching site:
– There are several sporting goods stores or online stores where you can purchase a car top carrier for Paddle Board / SUP.
Do you have waterfront property?
Check out the DockSider Paddle Board / SUP Dock Lift and Storage Rack @ https://dockcraft.com/paddle-board-lift-rack/
– Our Paddle Board / SUP Lift and Storage rack offers convenient launching and storage capability right where you need it – On your Dock! We have models that will suit your needs; whether you board your Paddle Board / SUP directly from your dock, or if you board your Paddle Board / SUP while you are in the water.
DockCraft Industries' patented design allows you to load and lift your Paddle Board / SUP directly from the water. With our leverage assisted design, you only lift a fraction of your Paddle Board / SUP weight!
– Keep your Dock clear for safe passage.
– Watch our videos at https://dockcraft.com/product/Paddle Board / SUP-dock-rack/
– Half way down the page; select the video's tab.
And Finally, Winter Storage :
– In the Off Season, you will need to store your Paddle Board / SUP away from the water.
– There are many Wall Mount racks available on the internet that will satisfy this purpose.
– You could also utilize the DockCraft Wall Mount Conversion Kit. This Kit will modify your DockSider Dock Lift and Storage Rack to a Wall Mounted Rack.