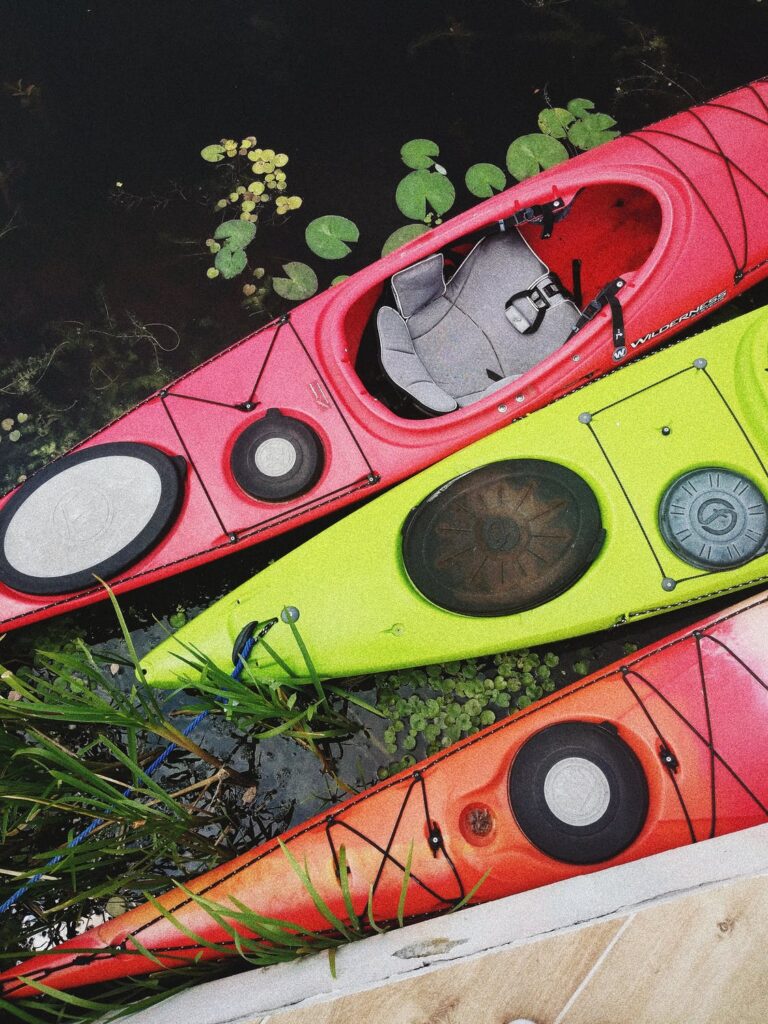 There is nothing more relaxing than spending an afternoon on the water. Kayaking is the perfect way to enjoy the outdoors, spend some quality time with friends, and even get a healthy workout in!
Before you grab your paddle and start navigating the open water, there are a few things you should keep in mind. A day of kayaking should be peaceful and fun, but things can go south quickly if you're not careful or you're unprepared.
Here are some helpful kayaking tips for your first time out on the water:
Go with someone experienced – In order to ensure you have a great day and a successful first kayaking trip, it's best to go with a friend or family member that has been out on the water before. They'll be able to show you the basics, like how to stay balanced, how to access the items inside your kayak, and how to actually get your kayak in and out of the water.
Bring the right kayak – For sit-in kayaks, there are two types: recreational and touring. Touring kayaks are for more experienced paddlers since they are narrower and faster. Recreational kayaks are much more stable, maneuverable, and suitable for your first time out. However, the most user-friendly style of kayak is the sit-on-top model.
Dress comfortably – This entirely depends on the weather, the time of year, and the water. If you're looking for a relaxing day in early spring, it might be pretty chilly out there – and even colder in the water. On those hot summer days, however, you're not going to want to wear multiple layers because things can get uncomfortable, hot, and sweaty fast. For the most part, it's best to dress for the water, not the weather.
Pack the essentials – You can bring snacks, a camera, and a beer or two. But first, make sure you're packing all the essentials. You should always have a personal flotation device, sunscreen, a first-aid kit, whistle, a water bottle, towline, paddle float, and a dry bag for your phone, keys, and wallet.
Stretch beforehand – Again, kayaking can and should be relaxing. But it also is a pretty good workout – especially if you're not used to paddling. Before you hit the water, spend some time and really get a good stretch in. Your body will thank you afterward.
Kayak on calm waters – Unless you have plenty of experience – and a kayak suitable for whitewater kayaking, you should stick with those calm and relaxing waters. If you tip your kayak over in a calm lake, you can simply flip it back over and hop on. If you tip in a strong current, however, that can get extremely dangerous.
Paddle correctly – It all starts with practice. Before you get into the water, actually sit down in (or on) your kayak and practice your paddling motion. When you're reading to get on the water, start with your back straight and supported as much as you can and keep your toes pointed outward. After each stroke, lift the blade of the paddle completely out of the water by leading with your elbow and following with your wrist. Also, try to avoid lifting your elbow above your shoulder level. If you're not paddling correctly, you won't be able to find your balance, you'll end up wasting too much energy, and you could injure your back. 
If you're excited to get out on the water as much as possible this year, you can pick up some kayak wall hangers for your DockSider Rack. Simply mount the brackets on your wall and your kayak will be safe and on display at all times. Then all you'll need to do each day is grab your kayak and enjoy the day!