February 3, 2019 | By Ed Wrobbel, DockCraft Industries LLC
So, you've decided to make the plunge; and purchase your own kayak!
Then you go to your local sporting goods store or you shop online only to see the vast selection of kayaks available. Now what? How do I decide?
First, you need to decide if you will be kayaking on Flat water or Whitewater rapids.
If you chose Whitewater, I would venture to think that you already know enough to select the kayak of your dreams! Therefore, we will concentrate more on Kayaks for Flat water adventures.
Flat water kayaks are grouped into two main categories:
Sit-On-Top Kayaks and Sit-In Kayaks.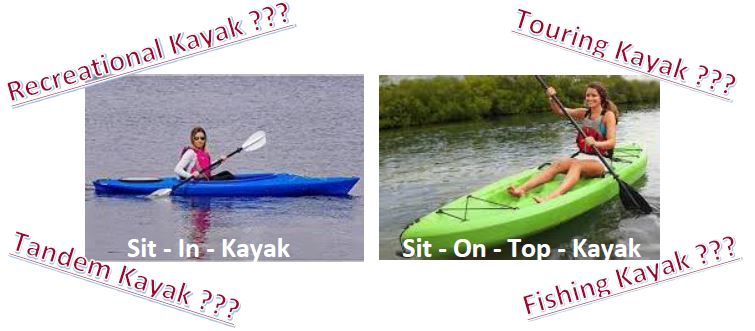 Sit-On-Top Kayaks have seats molded in the top of the Kayak where you sit. Your whole body is exposed to the sun and water – You will get wet! These are great for people with long legs. If you (and your pet) intend to go swimming; these kayaks are easier to get in and out of than Sit -In Kayaks.
Sit-In – Kayaks have a seat within the shell of the Kayak. Most typically, you sit in a cockpit while your legs are surrounded by the shell of the Kayak. They are a bit more difficult to get in and out of than Sit-On – Top Kayaks if swimming. However, the cockpits tend to be roomier than one would imagine.
Next, types of Kayaks:
Recreational Kayaks –
These are designed for the casual paddler interested in recreational activities on a lake or flatwater stream. These kayaks are characterized by having a larger cockpit opening for easy entry and exit and a wider beam / width (27–30 inches) for more stability on the water. They are generally less than twelve feet in length. The weight of these kayaks typically range from 40 to 60 lbs.
The design makes them slower than a longer boat would be, but lighter, more maneuverable, easier to handle in and out of the water, and less expensive. Due to the wider hull, recreational kayaks will not track (maintain a straight line) as well as longer, narrower models.
Touring Kayaks –
Sea / touring kayaks are built to stroll through water for longer miles. The designs provide better speed and gliding experiences for the longer distance, as well as extra storage space for carry-ons.
These Kayaks are typically 12 to 20 feet in length with a beam / width of 18 to 24 inches. They typically weight between 55 and 75 lbs.
This design tends to trade off maneuverability and stability for speed and performance.
Tandem Kayaks –
Tandem Kayaks are typically 13 to 20 foot in length with a beam / width of 30 to 34 inches.
As there is more surface area in contact with the water, these kayaks take a little more energy to paddle.
Typical weight of these kayaks range from 60 to 85 lbs.
Pro's:
Why paddle alone? – It's easier than paddling a single kayak once the two of you are in sync. Enjoy the experience with someone else!!! It is less expensive than purchasing two single kayaks.
Some manufacturers have a Tandem / Solo Conversion kit. These allow a person to sit in the middle of the kayak to make it easier for the solo paddler to manage the tandem by themselves.
Con's:
The tandem kayak is also known as the "Divorce kayak". The biggest con is not having the freedom to do as you please. If you are not ready to work as a team, this definitely is not the kayak suited for you! Your day can turn from fantastic to horrible one paddle at a time and then the blame game starts.
Fishing Kayak –
Most fishing Kayaks are 11 to 16 foot in length with a width of 30 to 38 inches.
The extra width provides more stability for standing and moving around, especially with sit on top kayaks.
Typical weight ranges from 70 to 90 lbs.
The Sit-On-Top Kayak is preferred by many as this type of Kayak allows the angler to easily add accessories, and enables them to get out and wade more easily. However, this can be a wet ride at times!!!
Some anglers prefer the Sit-In Kayak, or cockpit" style Fishing Kayak (they have a much larger cockpit opening than the typical Sit – In Kayak). The cockpit boats are great when fishing cold water, and can be a much drier ride. And, since you're actually down inside the boat, your center of gravity is lower and stability is often improved. However, being down inside a boat of this type makes it harder to get out should you decide to wade.
Aside from the types of kayaks an option to consider (available from many manufacturers) is a Peddle Drive system (similar to a bicycle). This option drives built in fins or a propeller to supply your propulsion when peddling.
Beyond understanding the characteristics of the various kayaks there are other factors that need to be considered when purchasing your kayak.
Weight – Make sure that the weight of the kayak is within your means of being able load, store and launch your kayak.
Color – for safety sake!
Choose a color based on safety and the ability to be seen by others on the water. Yellow is the most visible color, followed closely by orange and red.
Blue, green, and even white will seem to blend in with the color of the water or surf.
Transporting your Kayak Home:
Once purchased, you will need to get your Kayak home! If you do not have a car top carrier (which in most likelihood you could purchase at the location you purchased your Kayak), a pickup truck or a larger SUV, you could always rent a trailer from a local trailer rental agency.
Car topping your kayak to your launching site:
There are several sporting good stores or online stores where you can purchase a car top Carrier for Kayaks.
Do you have waterfront property?
Check out the DockSider Kayak Dock Lift and Storage Rack @ www.DockCraft.com
Our Kayak Lift and Storage rack offers convenient launching and storage capability right where you need it – On your Dock! We have models that will suit your needs; whether you enter your kayak directly from your dock, or if you board your kayak while you are in the water.
DockCraft Industries patented design allows you to load and lift your Kayak directly from the water. With our leverage assisted design, you only lift a fraction of your kayak weight! Keep your Dock clear for safe passage.
Watch our videos at https://dockcraft.com/product/kayak-dock-rack/
Half way down the page; select the video's tab.
And Finally, Kayak Winter Storage –
In the Off Season, you will need to store your Kayak away from the water.
There are many Wall Mount racks available on the internet that will satisfy this purpose.
You could also utilize the DockCraft Wall Mount Conversion Kit. This Kit will modify your DockSider Dock Lift and Storage Rack to a Wall Mounted Rack.
Use your favorite Browser, and search for: Paddling, Kayak, or Paddle Board – and one of the following: